Ingredients:
1 14 ounce can black beans, rinsed and drained
2 cups frozen corn kernels
1 small red bell pepper, seeded and chopped
1/2 red onion, chopped
1 1/2 teaspoons ground cumin
2 teaspoons LA VICTORIA® Red Taco Sauce – Medium (to increase heat level, substitute LA VICTORIA® Hot Sauce)
1 lime, juiced
2 tablespoons vegetable or olive oil
Salt and pepper to taste
Tortilla chips
Directions:
Combine all ingredients in bowl; let stand 15 minutes for flavors to combine. Top tortilla chips with mixture and serve.
Ingredients:
3 pounds beef chuck roast
1/4 cup water
1 1/2 cups beef broth
3 tablespoons red wine vinegar
1 tablespoon chili powder
1 tablespoon ground cumin
1 large onion, chopped
1 cup oil for frying
20 (6 inch) corn tortillas
1 cup shredded Monterey Jack cheese
1 19 oz can LA VICTORIA® Red Enchilada Sauce (mild)
Directions:
Place roast in a large saucepan that has a tight-fitting lid. Pour in water, cover, and simmer on low for 30 minutes. Increase heat to medium/high, and brown the roast on all sides.
Once the water has boiled away, pour in the beef broth, vinegar, chili powder and cumin. Cover tightly and reduce heat to low. Simmer for 1 1/2 to 2 hours or until the beef falls apart when you try to pick it up. Shred the beef, using 2 forks or your fingers. Place shredded beef back into the saucepan with all the juices, and let cool to room temperature.
In a large skillet, sauté onion until just soft, not browned. Add LA VICTORIA® Red Enchilada Sauce to heat and set aside.
In a large heavy skillet, heat the olive oil. Using tongs dip the tortillas, one at a time, into the oil for 30 seconds each side. Drain on paper towels.
Preheat oven to 375 degrees F (190 degrees C).
Spread 4 tablespoons of LA VICTORIA® Red Enchilada Sauce down the center of the tortilla. Top with about the same amount of beef. Roll up and place seam side down in one or two 8×11 inch baking dish. Repeat for each tortilla. Continue until you are out of filling. Top with remaining LA VICTORIA® Red Enchilada Sauce and sprinkle with Monterey Jack cheese. Bake in a pre-heated oven for 30 minutes or until cheese is melted and bubbling. Yields 10 servings.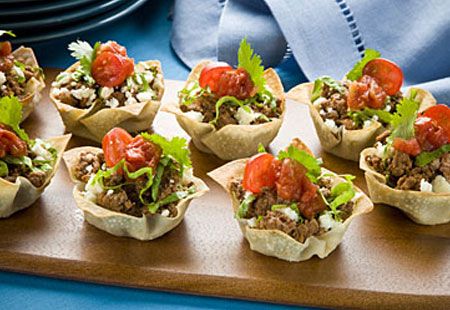 Ingredients:
1 package wonton wrappers
Nonstick butter flavored cooking spray
18-ounces freshly prepared meat (beef, chicken or pork)
2 cups shredded lettuce, coarsely chopped
1½ cups finely shredded Mexican blend cheese with taco seasoning
1½  cups LA VICTORIA® Salsa SUPREMA® Medium
Directions:
Lightly spray miniature muffin tins with nonstick butter flavored cooking spray. Gently press wonton wrappers into small muffin cups (this may need to be done in batches to accommodate all of the wrappers).  Spray wrappers with additional nonstick cooking spray. Bake at 375°F for 8-10 minutes or until lightly toasted and golden brown.
Meanwhile, heat beef for tacos as package directs.  Spoon taco filling into each wonton.  Top with shredded lettuce, cheese and LA VICTORIA® Salsa SUPREMA® Medium. Yields 70 appetizers.
Tip: For a great salad topping, simply spray leftover wonton pieces with nonstick cooking spray. Sprinkle with garlic powder or favorite dry herb blend. Bake at 375°F for 8-10 minutes or until lightly toasted, stirring once halfway through baking.
Recipe by Chef Jamie Gwen
Ingredients:
1 grocery store-bought rotisserie chicken, shredded
1 can LA VICTORIA® Enchilada Sauce (Red or Green)
1 package large round tortilla chips or soft corn tortillas
Optional: Shredded lettuce, cheese and sliced jalapeños
Crema Rosa
1 bottle LA VICTORIA® Red Taco Sauce – Medium
1 cup sour cream
Directions:
Toss shredded chicken with one can of LA VICTORIA® Enchilada Sauce. Top individual tortilla rounds with chicken mixture and stack in layers (2-3 high). If desired, top stack with lettuce, cheese and jalapeños.
Crema Rosa
In a bowl, combine LA VICTORIA® Red Taco sauce with sour cream; transfer mixture to a plastic squeeze bottle. Finish each Enchilada Stack with a "sauce paint" zig-zag of Crema Rosa for a gourmet- inspired taste and look.
To make recipe as an entrée, layer chicken mixture with soft tortillas or cornbread, or fill hard taco shells.
Recipe Courtesy of Jamie Gwen, 2010 www.chefjamie.com
Recipe by Chef Jamie Gwen
The flavor of LA VICTORIA® Salsa stands on its own – but adding grilled fresh pineapple is an unexpected citrus twist!
Ingredients:
1 jar LA VICTORIA® Salsa Suprema – Medium
1 fresh pineapple
Directions:
Remove rind and then cut pineapple (lengthwise) into wedges.  Place wedges on grill (indoor or out) and cook for two to three minutes each side, until fruit has dark "grill stripes" for a great, smoky flavor. Remove from grill and cut into small cubes.
In a mixing bowl, combine grilled pineapple cubes with LA VICTORIA® Salsa Suprema.  Serve in a pineapple rind boat with chips. Also a great topping for chicken or fish!
Recipe Courtesy of Jamie Gwen, 2010 www.chefjamie.com